Review: 'The Lovers'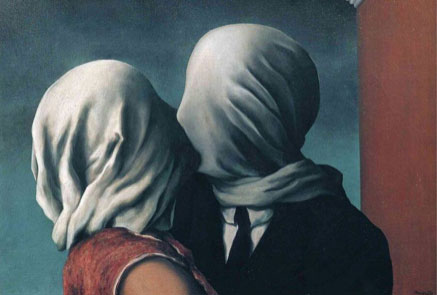 René Magritte's Les Amants (The Lovers) (1928) is a wonderful allegory of the 'Love is blind' adage. It is one of four artworks similarly composed, with different poses and backdrops. Each has the same image of two veiled lovers.

Magritte has a flair for creating surrealist pieces with deeply evocative tones and simple themes.
The La Trobe regional gallery in Morwell, Victoria, was fortunate enough to host Magritte's body of work, along with a rare volume of his amateur videography. I was there with a first-time romance, seeing what was beneath each other's veils, a fitting mood for choosing this art work.
Magritte uses a form he refers to as 'enhancement', a technique of using different media that are layered across a body of works.
His wife, Georgette, along with some dear friends, would dress up and create scenes inside his house and gardens that Rene would then paint, all the while using film and photographs to capture the scenes. He would capture the painting of the scene in the same shot. We see this play out across the four pieces, where the same pose is emulated in front of a painting of the first piece.
In this particular piece the two lovers are locked at the mouths beneath separate veils, concealing their identities (perhaps because the women could be his wife!). The simple colour palette is vivid enough to believe to be true.
An expression of passion that can only be achieved when a sense of sight is removed gives feelings of intrigue and a flare of curiosity. Although love my be blind, it certainly is more than enough to arouse the body!