Bushfire crisis sparks climate change rally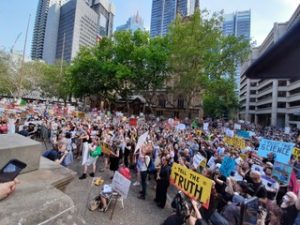 Tens of thousands of climate change and indigenous rights protestors gathered at Sydney's Town Hall on Friday night calling for Prime Minister Scott Morrison to be sacked over the federal governments response to the bushfire crises.

The rally was organised by Uni Students for Climate Justice along with various Extinction Rebellion groups in response to one of the longest and most catastrophic bushfire seasons in Australia.

Various estimates of the attendance ranged from 30,000 to 40,000, many of whom chanted "always was, always will be Aboriginal land" and "Hey hey ho ho ScoMo has got to go".

The crowd heard from various speakers including Greens candidate for Grayndler Jim Casey, a fire-fighter for more than 20 years in Sydney and Canberra.

Mr Casey said the recent bushfires were unprecedented and blamed a warming climate for their severity.

"(These fires are so bad) because it is dry, it is hot and there's a lot of fuel. Those three factors have all been massively amplified by the fact we have a heating world," Mr Casey told the crowd.

Mr Casey said there was a significant "fuel build up" because firefighters couldn't do burn offs during winter as they had become too warm.

Mr Casey also said the constant hot days Australia has been experiencing makes the bushfires worse.

"It's those days of high 30s (and) low 40s – that's what turns bushfires into firestorms," he said.

Mr Casey called for more funding for full-time and part-time firefighters as well as for more equipment.

"We need a massive investment in new fleet. There have been hundreds of professional fire-fighters available to work these fires who have not been able to get onto the fire-ground on their days off because we don't have enough fire engines," Mr Casey said.

NSW Greens senator Mehreen Faruqi said Australia was burning because of land mismanagement brought on by "two centuries of colonisation" which had "undone management and care for country by first nations people".

"The reality is there can be no climate justice without first nations justice," she told the crowd.

Senator Farqui said that she was "bloody angry" at the unfolding disaster and what was needed was, "truthful, courageous leadership … the leadership that is totally lacking in our prime minster and … government".

Senator Farqui said Scott Morrison and the government were cowardly, dishonest and completely incompetent which brought cries of "sack him" from the crowd.

After the speeches the crowd marched from Town Hall to NSW Parliament House causing various city-centre roads to be closed.

At least 28 people including four firefighters have died this bushfire season and an estimated half a billion animals have perished.
Comment on the rally has been sought from the Prime Minister's office.