Brisbane dancer wins women's half-marathon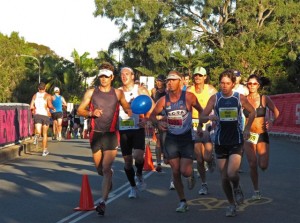 More than 3000 runners and walkers, from the elite to the general public, turned out for the Noosa Running Festival at Noosa Sound on Sunday morning.
Alexandra Headland's professional triathlete Tim George, 22, led at the turnaround and was a popular local winner in a time of one hour ten minutes and 50 seconds.
"I really enjoyed the crowd support and they let me know the gap distances along the way," he said.
He is an athlete to watch, having won the Men's Open Elite race at the Mooloolaba Triathlon at the end of March.
In the women's race petite Brisbanite Clare Geraghty won in an emotional finish with a time of one hour 14 minutes and 18 seconds.
The 24-year-old former dancer is successfully rebuilding her running career following injury, having last won this race in 2006.
Enthusiastic friends and family members crowded the funnelled finish line, voicing support and encouragement as the announcer called the runners home amid music and clapping.
An army of volunteers assisted and did everything from marshalling to pace setting to help make the event a success.
Spokeswoman Lisa Pringle, said participants in the three events – 21.1km, 10km and 5km run/walk – numbered about 3000.
"Because of the change of date, we had no Tanzanian runners this year.
"The numbers across all events are up from last year with many running the race as training for the Gold Coast Marathon in July," she said.
Results: www.usmevents.com.au
Photos: Gill Booysen